Your Adhesive Company
Find Product




Call Us




Email Us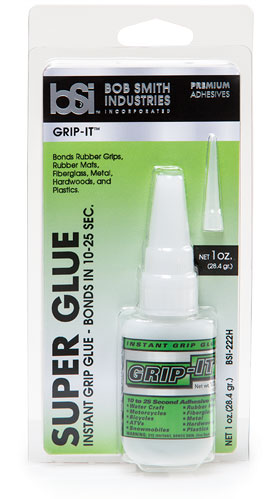 BSI-222H
Available Sizes: 1 oz. (28.4 g)
DOWNLOAD SDS
Grip-it™ has been specifically formulated for applying grips and mats for recreational vehicles. Grip-It™ works great on all makes of grips for motorcycles, jet skis, snowmobiles and bicycles. Grip-It™ has a 10-25 second working time and the grip is rideable within 5 minutes. Grip-It™ also works great for replacing rubber mats. Available in a 1 oz. bottle that will bond up to 12 sets of grips. Suggested retail price of $8.99.
Works Best On:
Water Craft
Motorcycles
Bicycles
ATVs
Snowmobiles
Rubber Mats
Fiberglass
Metal
Hardwoods
Plastics
Clean the bar area with rubbing alcohol. Unscrew top from nozzle. For finer applications, use the extender tip. Before applying any glue to the grip, have a disposable rag or paper towel within reach to be able to quickly wipe away any excess glue during application. Also place a piece of cardboard or paper plate below the working area to catch any excess glue drip. Apply 4 small beads of Grip-It™ to outer 2" of the handle bar, then apply a generous amount of Grip-It™ to the inside flange of the grip. Align the grip before sliding on, then slide the grip quickly into place. You may need to slightly twist and turn the grip as you slide it into position. Once in position wipe away any excess glue. Glue will set in 10-25 seconds. NOTE: On twist throttles replace sleeve if damaged. Cover any vent holes in sleeve to prevent bonding with handlebar.
1. Cover directly below work area with a cloth to prevent any drips from getting on vehicle (do not use paper).
2. Grip-it™ acts as a lubricant, the more you use the easier the grip will slide on. There will be excess glue that you'll need to wipe immediately with a cloth towel.
3. It is easier to apply grips if you "spin" it as you're putting it on. Stop turning when you have the grip in the proper position.
4. Determine mat alignment before applying Grip-it™. Apply the furthest away from you first, and then work your way toward yourself pressing down firmly.
5. Always work in a well-ventilated area.
Grip-It™ Cyanoacrylate is a single component adhesive that polymerizes rapidly when pressed into a thin film. The moisture absorbed on both surfaces initiates the curing of Grip-It™ and forms a permanent bond. Grip-It™ bonds close fitting surfaces including rubber, metal and plastic.
Please click here to download the Safety Data Sheet for this product
grip_it.pdf
| Physical Properties of Liquid Adhesive: | |
| --- | --- |
| Base Compound | Ethyl Cyanoacrylate |
| Appearance | Clear liquid |
| Viscosity at 20°F | 2,000 cps |
| Specific Gravity | 1.0 |
| Shelf Life at 65°F | 2 years |
| Flash Point | 83°C/181°F |
| Set Time | 10-25 seconds |
| Military Classification Per Mil-A-46050-C | Type II/Class 2 |
Physical Properties of Solid Adhesive (cured):
Operating Temperature (°F)
-40°F to 230°F
Dielectric Strength (KV/mn)
11.6
Coefficient of Thermal Expansion (in/in/F)
1.26x10 to the
negative 4
Solubility
Acetone, Nitromethane, MEK
Tensile Shear Strength, Steel Psi
2,800
Set Time Across a 4 Mil Gap
30 seconds
Other Products You Might be Interested In: