Your Adhesive Company
Find Product




Call Us




Email Us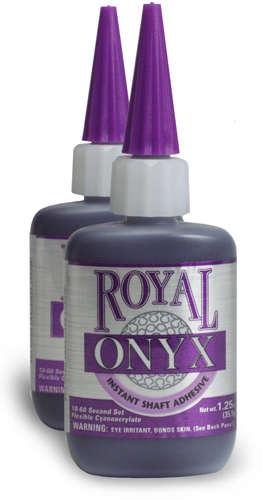 BSI-912
Available Sizes: 1.5 oz. (42.5g)
ROYAL-ONYX™, developed by BSI, is a revolutionary new adhesive designed for the golf industry. This one-part cyanoacrylate is the strongest and most impact resistant adhesive available for bonding club heads. With clubs playable within 45 minutes, Royal Onyx™ is the fastest and most durable way to get your clubs on the course. Use only Isopropyl Alcohol, not acetone, when cleaning preparation is necessary. Royal Onyx™ is available in a 1.5 oz. bottle with a suggested retail price of $13.99. Assembles between 50 to 75 clubheads. Shake well before using.
Safety Data Sheet (SDS) coming soon.
If you need further information please feel free to CONTACT US.
Advantages of Royal Onyx™ over Epoxy:
No mixing required
Easy application directly from bottle
Fast set and bond time
Cures at any temperature
Higher impact strength
of over 7,000 psi
100% stable to 220°F
Does not lose strength or get brittle with age
Easier clean up with acetone
Heads easily removed at 230°F
Bonds surfaces including metal, graphite, rubber, plastic and wood
Royal Onyx™ Set and Playable Times
Tolerance Head & Shaft (in thousands of inch)
.004 will set in approx. 20 seconds and be playable within 15 minutes.
.006 will set in approx. 40 seconds and be playable within 30 minutes.
.010 will set in approx. 120 seconds and be playable within 120 minutes.
.020 will take up to 5 minutes to hold a set and must cure 24 hours before playing.
How to Use Royal Onyx™
Preparation: We have found the best procedure for clubhead assembly is to clean out the hosel with Isopropyl Alcohol 99%. This will remove all oils and solvents from the head insuring the strongest bond possible. The shaft should be roughed up the same as if you were using epoxy.
Applying Royal Onyx™: Shake well before using. For a gap of approx. 010 thousands (.370 shaft .380 head) you will need to apply .8 to 1 gram of Royal Onyx™ (36 drops = 1 gram and one 8 inch bead = 1 gram). Apply Royal Onyx™ continually going around the top of the hosel 3 times and set upright to allow adhesive to run down the hosel while you prepare the shaft. Apply to Royal Onyx™ to the shaft in beads covering approx. 75% of the shaft 1-inch from the end and then put Royal Onyx™ on the very tip of the shaft. Then rotate shaft while inserting into the head (1-2 turns) then hold down firmly for 10-20 seconds.
The components in Royal Onyx™ will separate over time and must be shaken occasionally to insure a solid black color. If the first application from a new bottle of Royal Onyx™ is not solid black in color, discard the first few drops until you get a solid black color.
Acetone is a solvent for Royal Onyx™ and should never be used in any preparation. Acetone works great for final clean-up on cured and uncured Royal Onyx™ after clubhead assembly.
Mixing beads are not compatible with Royal Onyx™. On loose fitting heads use shims or sleeves.
Royal Onyx™ Cyanoacrylate is a single component adhesive that polymerizes rapidly when pressed into a thin film between the clubhead and shaft. The moisture absorbed on both surfaces initiates the curing of the adhesive. Royal Onyx™ forms a permanent strong flexible bond, designed for maximum impact resistance. Royal Onyx™ bonds close fitting surfaces including metal, graphite, plastic, rubber and wood. Use only alcohol, not acetone, when cleaning preparation is necessary. Shake well before using.
| Physical Properties of Liquid Adhesive: | |
| --- | --- |
| Base Compound | Ethyl Cyanoacrylate |
| Appearance | Black liquid |
| Viscosity at 20°F | 1,900 cps |
| Specific Gravity | 1.0 |
| Shelf Life at 65°F | 1 years |
| Flash Point | 83°C/181°F |
| Set Time | 20-120 seconds |
| Military Classification Per Mil-A-46050-C | Type II/Class 2 |
Physical Properties of Solid Adhesive (cured):
Operating Temperature (°F)
-40°F to 220°F
Dielectric Strength (KV/mn)
11.6
Coefficient of Thermal Expansion (in/in/F)
1.26x10 to the
negative 4
Solubility
Acetone, Nitromethane, MEK
Tensile Shear Strength, Steel Psi
Steel 304 under regulation JIS 6861
3,200 in 30 minutes
7,350 in 24 hours
Set Time Across a 4 Mil Gap
60 seconds
Other Products You Might be Interested In: